Lifestyles &
Appliances

Electric Vehicles
SolarRay is on the Science Channel/Invention Nation. The SolarRay crew demonstrate an EV motocross bike, EV bicycle, EV off-road vehicles and the EV Mazda in Taos, NM.

See us in the episode titled Desert Power on You Tube:
DesertPower1
DesertPower2
DesertPower3

Pros, Cons, &

The Future

As Seen on TV!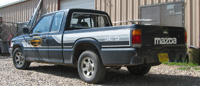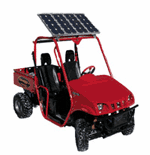 The SolRunner 2007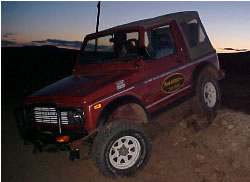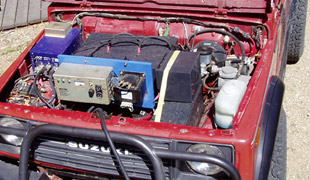 Under the Sunzuki's hood

Benefits:
-No Noise (#1 Complaint against off road vehicles)
-No Pollution
-Better throttle Control
-Simpler Operation (no clutch, gears, starter, choke, etc.)
-More climbing torque
-Can't stall
-Not sensitive to altitude
-Less Maintenance
-Can be light weight (with less range)
-Can be charged from Solar & Wind Power

Problems:
-Limited Range with current Lead Acid batteries
-Heavy (if more batteries are added to increase range)
-Less range when cold

Future:
-Better batteries will solve the problems. These batteries already exist in small configurations( cell phones, laptops, Li+, NiMh) and are becoming more affordable for larger sizes.
-Quick Connect batteries will allow quick battery changes.(Like cordless power tools)
-Faster chargers ( Nickel Metal Hydride batteries can be recharged in 15 minutes!)
-Lighter weight vehicles using carbon fiber technologies, etc. designed for Electric.
-Integrated Transportation systems that use small low speed EV s for travel in neighborhoods and downtown areas, that ride on bullet trains between towns (instead of highways) Drivers would read, sleep, or work on laptop while their vehicle recharged, all traveling at 200 mph. (Faster, Safer, more convenient, less pollution)

What will it cost me?

-The Solar Electric Mazda is for sell: $8995.00 right now.
-An electric conversion of a street legal car starts at $10,000 including parts but not including labor.
-A motorcycle conversion is about $1500 parts not including labor.
-Each conversion is different, so we can help you with your EV!
-Note ** We like to convert vehicles that are efficient to begin with. A small 2 wheel drive pickup or a sedan with room for batteries is a good start. Also consider your driving habits and how long and far you want to go.

Anybody Can Own an Electric Vehicle!

Just as cordless power tools have become all the rage, small EV s too will boom in popularity as gas prices and pollution continue to grow. Our simple, affordable bicycle power kits offer this technology practically to anyone.

Electric Vehicles For The Wild
(article by Ray Walters, reprinted from Taos Green Guide)

I was showing our latest electric ATV to a local skeptic, and his question was "Why?"
I answered, "Because I love off -roading even though I'm a solar guy. We're running out of oil, and they're closing more remote areas to vehicles because of the noise, pollution, and devastation they create."
"So?" he asked.
"So, electric vehicles get more traction and less tire spin, they have more torque, they can't stall on a hill, you don't have to use a clutch ...And ..," I paused for emphasis. "No Noise, No Pollution!"
He still thought I was an idiot, but this is America, right?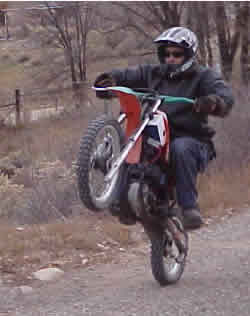 So, what ARE the down sides of this "wonder" transportation? - the 20 to 50 mile range. That's it.
You can't go as far as a gas engine vehicle without recharging. Solar panels can allow the vehicle to recharge anywhere, but it takes time. Plug in chargers can do the job in an hour, but if you're in the outback, where are you going to plug in? If you add more batteries, then the vehicle gets too heavy , slow, and cumbersome for the average rider. Basically, we are still waiting (100 years now) for better battery technology to make electric vehicles mainstream. They're out there: Lithium Ion, Nickel metal hydride, nickel zinc, fuel cells... all could allow EVs to match the range and weight of regular machines; they're just too expensive. Otherwise, we have fixed all the other problems holding EVs back.
Most people don't realize that electric vehicles have moved Americans around since the 19th century. Most motorized delivery vehicles in New York City in 1910 were electric! Trolleys, subways, most commuter trains, were and still are electric. Diesel locomotives actually just use the diesel engine to generate electricity to drive the.... (yep!) electric motors. Electric motors have more torque, more control, and fewer moving parts, and don't need a power robbing transmission either. We use electric motors every day: in power tools, CD players, computers, kitchen appliances, even to start the gasoline engine in your car!
In spite of the range, who could ride around on our current electric off road vehicles?
- Hunters (remember, no noise?), forest rangers, ranchers, farmers, or anyone with many starts and stops (you don't have to keep restarting and shutting off the engine).
- Serious rock crawlers who want the ultimate in traction, torque, and throttle control.
- Kids who don't want to annoy the neighbors while having lots of fun.
- Disabled people who don't now have a chance to see much of America's wild beauty.
Instead of closing more trails, imagine small, silent, clean EVs sharing existing trails with bicycles and horses. Imagine enjoying the sounds of nature even while riding. Imagine clean air for all of us and the forest creatures. Imagine all of us enjoying America and Mother Nature together as one...Well quit imagining, because from motorcycles to street legal four wheel drives, the electric vehicle future is here in Taos now.
Copyright 2009, SolarRay, Inc.
All rights reserved