Guaranteed
Complete!
Call for Details
Off grid Power Systems
The right solar energy system for you depends on your desired lifestyle. Review our line of packaged off grid solar power systems below, or launch the Solar Sizer to quickly find out where you stand in terms of price and system.
(If you have trouble launching the Solar Sizer, turn off all popup blockers.)
More About Our Solar Energy Systems:


| | |
| --- | --- |
| • | All SolarRay systems are guaranteed for performance and reliability. |
| • | All SolarRay systems are eligible for the Federal 30% tax incentive. |
| • | SolarRay systems can be purchased as kits for your Do-It-Yourself project. |
| • | All SolarRay systems include 1 hour of pre- or post- purchase support per $1,000 of system. |
| • | All SolarRay systems include Everything you need to DO It Right- The First Time! |
Compare our kits with the competition:
We include all the components you'll need for an A level installation. The other guys just sell you the big ticket items, but leave you flat when it comes to the details: the right connectors, wire, grounding, etc. We sell you EVERYTHING you need at a competitive price, along with the expertise of a certified installer & engineer to back it all up.
Compare our packages with the other guys
The Most Reliable Name in Solar!

SolarRay has provided reliable, guaranteed renewable energy products and service to Taos and beyond for over 10 years!Find out more about us; click Why Buy From Us.

Which of Our Kits is right for You?

We offer packages for every application and budget. If after using our Solar Sizer software, you still can't decide which system is best for your needs try our handy comparison charts: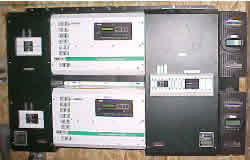 The Heart of all Solarray's power systems are our power boards. These mount & wire all the electronic components together on a unified mounting board. Our systems include all the safety equipment needed for your application.

Remember, We go with every system, so you can count on our support over the years, if you have trouble or want to expand. We stay abreast of all the latest technology. As even better equipment becomes available, we will help you integrate these seamlessly into your power system. We even offer a fair trade-in on your old equipment when you upgrade.
(see Why Buy From Us for more)