It costs twice as much to redo a poor job than to have wired it correctly in the first place, and it only ends up being ½ as good!
You'll Save Money:
While you may find seemingly better deals,check the details. We sell ALL the parts and the expertise to do it right the first time. Also, we offer 10 to 25% discounts on many of the more expensive components to make solar affordable for all. Let us save you money by selling only what you need, using the best equipment, and installing it right the first time.
You'll Live without Fear: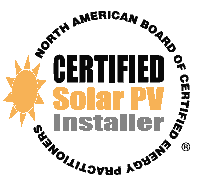 Your Safety is our first concern. While other systems may Look Good or even meet basic code; they don't show the attention to detail that marks our work. SolarRay has 2 technicians with NABCEP Certification. Ray Walters has a degree in Engineering, a State of New Mexico Construction Industries Division Permanent License to permit or contract projects up to $1 million dollars, and a New Mexico Licensed Master Electrician (#94737), along with over a decade of wind and solar installation experience. Our staff holds a degree in Renewable Energy, several other degrees, and almost 25 years of collective electical and alternative energy experience on board. We go beyond the code when it comes to areas like lightning protection, grounding, battery corrosion, and venting.

SolarRay is bringing solar power reliably to your home. We also provide clear and understandable estimates and invoices, so you know what you are getting right from the start.

Spending thousands of dollars on equipment that you don't understand can be scary. We replace that fear with confidence and knowledge.

The following link is scary, click on it if you are not faint of heart.
You'll Understand your System Better:
Over the years, we have built our reputation on providing answers. We start from the first conversation to help you understand Solar power, and take the time through out the installation to bring you up to speed. . Then, after the installation is finished and for years to come, you can count on us to answer all your questions with the best technical support in the business.
You'll Be Happy:
Our primary goal is to see you living successfully and happily with your own renewable power system. We judge our success on your long term happiness. We don't just sell you some boxes of equipment, we take the time to find out what you want to do; what you expect, and what your future plans hold. We design a system that meets your immediate needs with room to grow as you do.
Those mega discounters won't be around after the sale, or worse, they won't even be able to help. We offer a full system warranty. We don't just guarantee the different pieces of equipment, we guarantee they will work together to meet your needs.
Our Customers Speak For Themselves:
Marie-Louise Hadden: "We hired Ray... a decision we have never regretted. He has been enthusiastic, conscientious, honest and fair, more than helpful, and eager to share his vast knowledge of renewable solar energy.

Hadden Home's off-grid installation

Leslie Wey: "Ray, Russ, Mark, and Cedar are wonderful. They are so knowledgable and helpful. They set up and maintain my system with a great attitude.I wouldn't use anyone else."

Leslie, another happy customer

Jeralyn Lujan Lucero: "Ray, Thank you very much for your ... services. We love the lights."
Cathy & Michael Delaney: "Ray, we appricate your work a lot - We consider you a rare & treasured resource!"
Cami S.: " Ray and Russ: Thanks for everything. You do great work"
Carrie & Glenn Chippindale:"Ray, We would like to express our deep thanks for the absolutely beautifu job you've done for us. We could not be happier.

Chippindale's array

UNM Taos: "The lighting project was great! Thanks, SolarRay."

The solar array to power walk lighting
Check out SolarRay's Guaranteed Complete Systems!