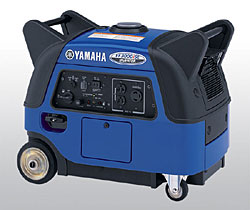 The most popular form of backup power is the engine generator. While it is possible to use renewable fuels such as Methane gas or Biodiesel, most people opt for the less benign petroleum fuels such as propane or gasoline. In a well designed solar system, backup power will be necessary less than 5% of the year. This translates into running the generator for a few hours per week 2 to 3 weeks a year. Obviously actual run times will vary with local site conditions and needs, but many of our more environmentally conscious customers prefer to reduce their power usage rather than run an often loud and pollution emitting generator.
. In your solar power system, they are two different pieces of equipment.
INVERTER-GENERATORS
are a whole new type of fossil fueled electric generator. They are lighter, quieter, more fuel efficient, and put out cleaner AC power. Unlike regular generators that vary the voltage and frequency of the electricity as the engine speed changes, the engine on Inverter Generators can change speed considerably to meet power demand while voltage and frequency remain stable. What does this mean? No dangerous power surges that can ruin some appliances and best of all : These generators run AC battery chargers much more efficiently, so a 2800 watt Yamaha inverter generator (for example) can put as many amps into your batteries as a 5000 watt or larger generator of a lesser brand. Inverter Generators are available from 1000 watts to 3000 watts (3 kW)
Portable Generators
For larger loads and 220 vac output, we offer Yamaha's line of Premium generators. They range in size from 4000 watts to 12,000 watts. We also offer a 6600 watt diesel.
Wheel Kits, outdoor covers, and Propane conversion kits are available for most Yamaha models.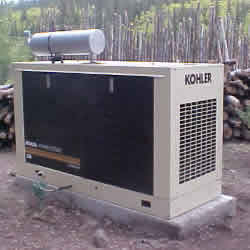 Stand alone PROPANE GENERATORS
We have supplied Kohler generators for years on our larger projects. Kohlers are available in up to 300 kW models. When we design power systems that will auto start the generator, we won't use anything less. Why? Other generators don't have the reliability of a simple 2 wire starting system. Other generators don't have the built in protection features. Other generators might not be propane fired and so they may have difficulty starting in cold weather, when you need them the most. These generators all feature their own outdoor enclosure and mounting base, so installation is easy, and permanent.
Autostart vs. Manual start
Some solar power systems can automatically start a generator when the batteries get low, or to run a large load (like a deep well pump). However, its much less expensive and simpler to start and stop the generator yourself. If you do decide on autostart, we only recommend the stand alone propane generators. Our Ranch & Commercial Systems feature autostart generators.
Derating for Altitude
Since there is less air at higher altitudes, generators make less power. Typically, we derate 2 to 3% per 1000 ft above sea level.
Diesel: We do not recommend diesel for autostart in cold climates, because the glow plugs and block heater necessary take too much electrical power. For those in moderate climates that want to use Biodiesel, this may be a good choice.
Our Experiments in Biodiesel
What size generator do I need?
As a backup for solar power systems, a generator's continuous watts (after derating for altitude) should be slightly larger than the cont. rating of your inverter, or AC battery charger.
If a generator is too small: it will run for days to recharge the batteries, or it will overload and shutoff.
If the generator is too large: it will use more fuel, be louder, and cost more to operate.